Hello... a big welcome to the University of Hertfordshire from Uno, the university's very own bus company.
It's a great place to study, with lots to see and do while you're here - and we can take you there in style.
As a student, you get cut-price bus travel - leaving you with more money for the other things that matter.
Our mobile app is an essential bit of kit - from planning a journey, tracking your bus live on a map to saving money on your ticket. Make sure you download it today - search Uno buses in your app store.
We've put in place lots of extra measures to keep everyone safe while they travel, from regular deep-cleaning to on-board hand sanitiser. Click here to find out more, or watch our video so you know what to expect: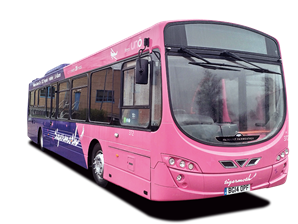 finding your bus
our online journey planner gives you the best option, or look at our network map to see where all our buses go
getting on
raise your arm when you see the bus approaching, so the driver knows you want to get on - have your UH id pass ready to show the driver if you're travelling with a discounted ticket.
pay, or scan your M-ticket
pay when you get on with cash or contactless, or scan your M-ticket - if you're paying with cash, you'll need the exact money please - we can't give change at the moment.
getting off
press the stop button once before the bus reaches your stop

There are lots of links around Hatfield, so whatever you're doing there's bound to be an Uno bus going your way. Between College Lane and de Havilland Campus, The Shuttle is the best option - plus, it's free when you show your UH id pass. 
Click here for our network map of all buses in Hatfield, showing you the best way to the station, to town or lots of other destinations. 

Pay just £1.20 per trip, or £2.20 for a return, on any Uno bus in Hatfield - show your UH id pass to the driver when you get on. Save even more when you buy a bundle of 10 single trips on our app - just £10.50 for 10, with no expiry date.

Whether you commute in to uni, or are looking for somewhere new to explore, our buses run all over Hertfordshire and into north London too. And, being a student, you'll get discounted travel too.
There are two zones - click here for a map showing where each one is - and the price you pay depends whether your journey is in zone 1 or zones 1 & 2. Don't forget, our best-value tickets are always on the app.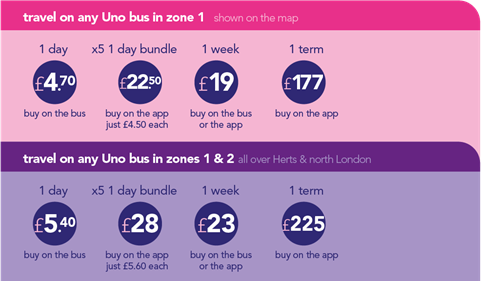 Download the Uno buses app and start saving today.
Enjoy your time at Hertfordshire, and don't forget - if you have any questions about our buses, get in touch with us on social media or call 01707 255 764.