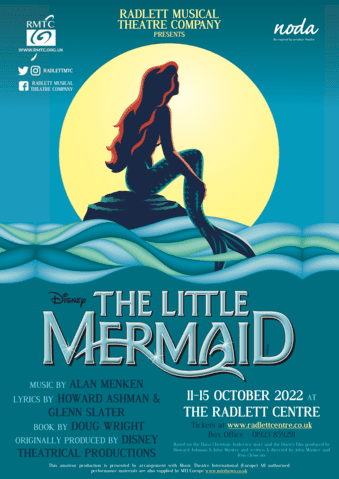 Radlett Musical Theatre Company production of Disney's The Little Mermaid
Based on the animated 1989 Disney film and the classic story by Hans Christian Andersen, Disney's The Little Mermaid tells the story of a mermaid who dreams of the world above the sea and gives up her voice to find true love.
The magical tale includes much-loved classic songs, such as "Under the Sea", "Part of Your World" and "Poor Unfortunate Souls". Beloved original characters, including Ariel, Flounder and Sebastian, will take you and your family on a magical underwater adventure.
Radlett Musical Theatre Company (RMTC) are celebrating their50th year of bringing inventive, high quality theatre to this local community. Join them as we make a splash with this all-star production!
Radlett Musical Theatre Company
Tuesday 11th – Friday 14th October, 7.45pm and Saturday 15th October, 11.00am and 4.00pm
Book online - https://www.radlettcentre.co.uk/What-s-On/Theatre/Little-Mermaid
Get there on our 602 route - check times here