Brave Voices
Here at Uno Buses we're proud to be supporting the Brave Voices campaign, developed and designed by students from the University of Hertfordshire.
This creative campaign aims to highlight the impact of harassment for passengers on public transport, and to encourage everyone in the community to take action together against inappropriate behaviours. Although instances are rare, it is important that we recognise when vulnerable passengers may need support. The campaign focuses on the small interventions that bystanders can make to help support and protect travellers against unwanted behaviours.

Need help now?                 
If you've reached this page after scanning a QR code and you need help, then please follow the steps below to make sure you get the support you need.
If you're on a bus now and you need assistance please let the driver know – our drivers are here to help.
If you feel like the situation could escalate and there's a risk of violence, or you need immediate assistance, please call 999.
If you were involved in, or witnessed an incident on an Uno Bus, please let us know so we can look into what happened. We're here to support and help you.
Little interventions, big differences.
The campaign highlights the small, safe steps that bystanders can take to help someone in need.
For example, it can be as simple as creating a distraction by asking the passenger needing help, where the bus stops next, or whether they can help with directions to a specific location. This type of intervention not only helps to de-escalate a situation, but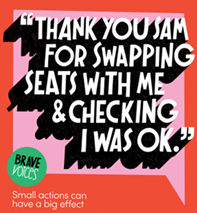 provides  reassurance too. 
The UK government's Just Think 'Stop'  campaign also shares some great advice on how people can help without putting  themselves in a risky situation.  Check out the links below. 
All about Brave Voices                               
Brave Voices is a collaboration between Uno Buses, the University of Hertfordshire and Hertfordshire Police.  We've all come together to make a difference in helping vulnerable passengers feel safe and confident when making journeys across the bus network.
Fortunately instances of sexual harassment are still few and far between on our transport network. However, even one incident is one too many. If it does happen, we want people to feel empowered to report it; and if you're a bystander or witness we want you to understand how you might be able to help.
The Brave Voices campaign features original artwork in advertising across the network, on our buses, on bus stops and across the University campuses – our aim is to raise awareness and empower individuals to report and call out harassment.
The innovative designs and campaign concept were created and developed by Anne-Marie Leadbetter who graduated in 2022 with a degree in Graphic Design from the University of Hertfordshire. During her final year of university, she created a campaign that aimed to publicise and educate people regarding the problem of sexual harassment on the London Underground. Throughout the project she became very aware of the impact sexual harassment can have on access of employment, education, and social opportunities.
She then reached out to Uno Bus to encourage them to get involved. She wanted the campaign to focus on real people and real experiences whilst showing that there is not one fixed approach to being an active bystander.
More useful resources
Last year the UK government developed the 'ENOUGH' campaign which contains practical advice on what you can do as a bystander when you witness abuse or harassment. As they state, 'intervening doesn't have to be dramatic or confrontational'. Take a look at the Just Think 'Stop' guide, which is full of great suggestions.
The University provides its own support for victims of sexual assault, harassment or violence. Visit AskHerts for details on how to access these services, which include free counselling, advice, a 24/7 helpline, and assistance in accessing external avenues of support.